有人说,如果雅典只有一个苏格拉底,那是偶然;但当苏格拉底、柏拉图、亚里士多德们成群出现时,
那一定是因为,雅典上空飘扬着滋养的空气!
If only one Socrates was found in Athens, then this could be an accident.
But when Socrates, Plato and Aristotle all appeared in the same place,
this must be because of the stimulating atmosphere over Athens.
在温州森马协和国际学校,
国际教育和国内教育,双轨并行,双峰并峙!
我们的愿景是:
无论老师还是学生,天赋不能违背,每一个人努力做最有风格的自己,千峰相竞是森马协和校园de美好景观。
At SUIS Wenzhou, we offer both international education and Chinese education.
"Dual Tracks" is our path, "Dual Peaks" is our goal.
Our vision is to create a diverse campus by embracing the gift and uniqueness of each one of our students and teachers.
助推一个又一个孩子抵达梦想的高度,就需要有托浮起他们的伟大力量! 
To help students to reach the height of their dreams, it will require great power from teachers.
(2020年温州都市报)
The recruiting advertisement above published in "Wenzhou Metropolis Daily" in 2020
2021年,国内教育的教师天团已闪亮登场2022年,国际教育的梦之队也将扬帆起航
温中班之"名",名在"名师"
牛剑班之"优",优在"优师"
The all-star teaching faculty for domestic education already made debut in 2021.The dream team of international education will also set sail in 2022.

Our "Wenzhong" Class is reputed for its highly qualified teachers.

Our "Oxbridge" Class will also excel for its outstanding teachers.
【牛剑导师的"样子"】
What caliber of teachers are we looking for?
1.牛津/剑桥/哈佛/斯坦福等国际名校,或清华/北大国内名校的教育背景;2.著名国际学校或者欧美顶尖高中的任职经历;

3.教龄10年以上,至少有两届毕业生特别优异业绩(国际前10名校升学成绩);
Ⅰ.Graduated from top overseas universities such as Oxford, Cambridge, Harvard, Stanford etc., or from top Chinese universities such as Tsinghua, Peking University etc.Ⅱ.Have had working expereince in other well-known international schools or top high schools in Europe and America

Ⅲ.Have had at least 10 years of teaching experience with at least two batches of graduates who were accepted into top 10 universities according to the QS university ranking.
如果您是我们寻找的这个"样子",那么请来森马协和,赴一场乘风破浪的"牛剑"之约。

当然,如果您还有国际教师资格证者(Celta,TKT,AP/A-level培训证书等),我们将优先考虑;
If you meet these requirements,welcome onboard to our Oxbridge program.

If you also have international teacher qualification certificates (CELTA, TKT, AP/A-level training certificates, etc.), these will give you priority.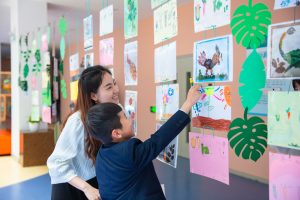 【牛剑导师的"票子"】
Our remuneration package
1.年薪:最高达1,000,000人民币;2.优厚的升学奖励金;

3.五险一金,报备员额编制;

4.国际课程培训以及海外高等院校走访交流的机会;
Ⅰ. Up to 1,000,000 RMB annual salary before tax.Ⅱ. Generous performance bonus linked to student achievement.

Ⅲ. Social insurance and accumulation fund, teachers enjoy the same benifits as public schools.

Ⅳ. International professional development and visits to overseas universities.
Introduction to the school
作为温州唯一一所十五年一贯制的国际学校,温州森马协和国际学校始终希望在中西融合的氛围中与每一位加盟的教师建立起强有力的合作关系,共同组建一支以学生为中心、全情投入教育的高水平师资队伍,把这所来自上海的国际学校打造成温州教育的"珠穆朗玛"。我们秉承的理念是,"用最优秀的你培养最优秀的学生"。
As the only K-12 international school in Wenzhou, WZSUIS aims to establish a strong partnership with each every teacher in an environment of integrating the best of East and West. In order to make our school that originally comes from Shanghai the "Everest" of Wenzhou education, we hope to build a high quality teacher's team that is fully engaged in student-centered education. Our recruitment philosophy is to "cultivate the best students with the best teachers".
更多学校详情请点击:http://cxeea.cn/DhEpS
For more information about school, please click the link.
Other positions available
☑️ 只要您对教育有一份执着的热爱;☑️ 只要您始终有满满的能量和内驱力;

☑️ 只要您愿意接受新事物,对未知充满好奇心;

☑️ 只要您有足够的经历,有足够的优秀,以下的招聘岗位,欢迎每一个热忱的你:

(有海外留学经历的优先)
◆ a persistent love for education,◆ always full of energy and internal drive,

◆ willing to accept new things and be curious about the unknown,

◆ we invite you to apply the following positions.
◆ 幼儿教师;◆ 小学各学科教师;

◆ 初中各学科教师;

◆ 国际高中(A-Level/AP)各学科教师;

◆ 国际高中雅思、托福教师;

◆ 中小学综合学科(音乐、体育、美术、计算机、戏剧等)教师;

◆ 国际学校工作经历丰富的管理中层(教研/学术/德育);

◆ 中小学英语小班化培训教师;

拥有专业特长的教师(开设特需课程:航模/无人机/编程/创客等);
◆ Kindergarten teachers◆ All subjects of primary school teachers.

◆ All subjects of middle school teachers

◆ A-Level/AP subjects of International High School teachers

◆ IELTS and TOEFL teachers

◆ Teachers of comprehensive subjects (music, physical education, art, computer, drama, etc.) in primary and secondary schools.

◆ Middle management with rich experience in international schools (Teaching and research/academic/moral education).

◆ English teachers (Small size of class) in primary and secondary schools.

◆ Teachers with professional expertise (offering special courses: Aircraft model/UAV/Programming/STEAM etc.)
◆ 招聘简历投递方式  Application method1. 简历投递邮箱 Email for collecting resumes

hr.wz@suis.com.cn

2. 万行教师网申请链接 Online Application link:https://www.job910.com/school_view_84599.html

3. 二维码申请 Apply from QR code
◆ 应聘咨询电话 Application consultation telephone

0577- 85887006

18989710911,18957792909

◆ 应聘流程 Application process
在浩瀚的星河中,我们正在寻找你!在无边的宇宙里,你要从哪里启航?

In the vast galaxy, we are looking for you!

Where are you going to sail in the boundless universe?
未来始于当下,加入森马协和——
开启您的人生新征程……
The future begins with the present.
Join SUIS Wenzhou to start a new journey in your life……